Heartfelt Dogs Needle Felting Workshops
I regularly run needle felting workshops in Huddersfield throughout the year. The workshops cater for all skill levels and no previous experience is necessary. All materials and tools are provided within the cost. Refreshments are provided throughout the day.
Current workshops are detailed on my stockists/events page. New Day added – Dogs Workshop – Saturday 1oth November 2018
I am happy to discuss bespoke one off, or series of workshops for specific groups and organisations. I also offer workshop gift vouchers. If you would like to buy one for a friend for a special occasion. Email me for details at dogs@vonallen.co.uk
If you would like a place on the next workshop or to be added to the mailing list, email me at dogs@vonallen.co.uk for a booking form.
"I never thought I'd be able to come up with something so good as that at the start of the workshop, for ages it just looked liked nothing and then a little dog started to appear, as if by magic"
DM Huddersfield
"What a fantastic day making needle felted dog, I am now hooked, thanks Von"
MF Huddersfield
"Had a fabulous time, great teacher, great results."
MS Huddersfield.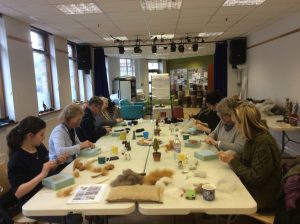 What is needle felting?
Needle felting or dry felting is the technique of transforming wool fibres into a piece of 2d cloth or a 3d sculpture. The magic happens by the use of a special felting needle which has tiny barbs along its length. When the needle is inserted into the wool it catches hold of the fibres and tangles them together. The more stabbings of the needle the firmer the wool will become enabling you to sculpt the materials into 3d forms.
Basic tools needed:
You can buy most needle felting tools and materials on the internet. If you type needle felting wool into the search engine, you will get many results from shops in the UK to those further afield, and for the beginner this can be confusing. Below are some tips for getting started on your own. Of course you could buy one of the many kits that are available, which usually supply all the materials and instructions needed for one off projects. Many of the on line shops will sell starter kits that will also provide all you need.
Felting needle: Felting needles come in various sizes and gauges depending on the project being undertaken. No's 36 and 38 are the most common all purpose needle. 40 and 42 gauges are for finer more detailed work and finishing of projects. They come in 'star' 'triangle' and spiral shapes. You may wish to try different ones and decide which suits you best. The needles are very sharp and will break easily if not inserted into the wool at a straight angle.
Mat: You will need something to jab the needle into as it goes into the wool to prevent injury to yourself or the surface underneath. A high density foam mat is the most common and cheapest to use. Some people use a hessian bag filled with rice or similar dry material. What ever you use it will have to be replaced at regular intervals.
Wool: Most fibres can be felted, including your own pet's hair! The most common type of wool used in needle felting is wool roving. This is spun wool, washed, combed and carded into long ropes. Wool batting is also a good choice and even uncarded/raw wool can also be used for a more natural finish. Marino wool can be used but because of its carded finished state is it more often used as the top coat for the project.